The Interactive Dictionary
The Interactive Dictionary accompanies you throughout the whole studying process, especially when you are practicing at the Gym as well as when you are reading texts in the Library.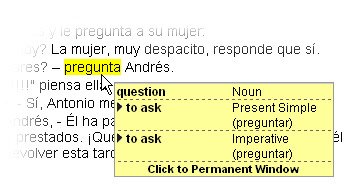 When the Interactive Dictionary is activated, you can place the cursor on a Spanish word and it opens a window with its meaning in English.
If you move the cursor to a different word, the first window disappears and a new window with the meaning of the new word replaces it.
The Interactive Dictionary not only presents the meaning of a word, but also the corresponding grammatical structure, according to your studying needs.
For example, the word Pregunta in Spanish (in English: He asks), is a verb conjugation (Preguntar: To ask), in the Present Simple. Therefore, the Interactive Dictionary presents this word as a link and clicking on it opens the conjugation table of the verb Preguntar in the Present Simple tense.